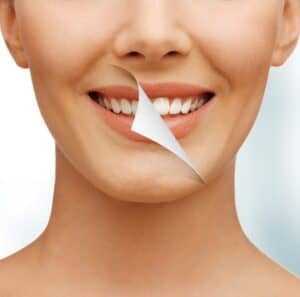 Everyone wants a bright, white smile, but not everyone is lucky enough to have one naturally. Fortunately, professional teeth whitening is a reliable way to dramatically whiten your teeth. If your teeth are yellowed or feel not as sparkling as you would wish, come visit Dr. Karen Tiwana at Chatham Dental Arts for a cosmetic upgrade. She uses the amazing ZOOM treatment, which has a proven track record for achieving great results.
Are You a Candidate for Teeth Whitening?
If you are dissatisfied with the color of your teeth and want to get them whiter, you are likely to benefit from an in-office whitening treatment. However, you should be aware that porcelain and ceramic dental devices like veneers, dental implants and dental crowns do not respond to teeth whitening in the same way as natural teeth, and the result may be an uneven tone.
What Are the Benefits of Teeth Whitening?
Because it has a higher concentration of hydrogen peroxide for maximum bleaching power, professional, in-office teeth whitening can help you to attain much better results than whitening toothpastes, at-home kits or whitening strips. Under the watch of a talented dentist like Dr. Tiwana, you can be confident that the treatment will be done safely and effectively.
What Is Zoom Teeth Whitening Like?
To begin, Dr. Tiwana thoroughly cleans your teeth to ensure that all plaque and food particles are removed and ensure that the whitening process has even results. At the same time, she checks for any oral health problems like gum disease or tooth infections since the bleach used in teeth whitening can aggravate these problems. If she discovers an issue, she may suggest you address that problem first before having cosmetic teeth whitening.
Next, Dr. Tiwana coats your gums with a gel to protect them from the bleaching agent so that it only goes on the teeth. She also provides a lip retractor to keep the lips separate from the teeth. Next, she applies the ZOOM hydrogen peroxide gel over the teeth, while shining a special lamp onto the teeth to help break up stains. After 15 minutes, she removes the gel and then reapplies it two more times (for a total treatment time of 45 minutes to one hour.)
What Kind of Results Can You Expect from Teeth Whitening?
The average patient sees their teeth appear eight shades whiter following treatment. If you started with yellowed teeth, set your expectations accordingly because the bleaching agent cannot make these teeth bright white with a single treatment.
You should enjoy the effects of Zoom teeth whitening for one to two years. It is safe to undergo this treatment about once per year. To maximize the effects, Dr. Tiwana encourages you to avoid foods and beverages that are known to stain your teeth like red wine, cola, coffee, berries and soy sauce to maintain your teeth's whiteness for as long as possible and perhaps even reduce your need for further treatments.
Schedule an Appointment with Dr. Tiwana
Get the kind of smile that will have your friends smiling back. Teeth whitening is an easy cosmetic procedure that gives your teeth a realistic-looking makeover. For an appointment at Chatham Dental Arts, please call (919) 542-4911 today.