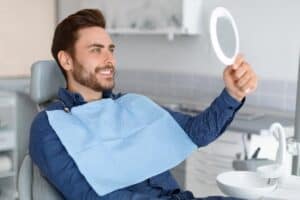 If you have always wanted to have an attractive smile and are less than excited by what you currently see in the mirror, the good news is that you have options. Pittsboro dentist Dr. Karen Tiwana offers several cosmetic procedures that can help you to achieve a nice smile even if your genetics have let you down in this regard. At Chatham Dental Arts, patients leave with teeth that are both beautiful and functional.
Are You a Candidate for Cosmetic Dentistry?
If you would like to improve the aesthetics of your smile, you are likely a good candidate for cosmetic dentistry. In some cases, Dr. Tiwana may suggest that you fix an existing dental problem before performing a cosmetic procedure (like teeth whitening or veneers.) Much of the time, restorative and cosmetic procedures go hand-in-hand, with a single procedure offering both functional and aesthetic value.
What Are the Benefits of Cosmetic Dentistry?
Cosmetic dentistry offers patients who are not naturally blessed with a perfect smile the opportunity to achieve attractive, whiter teeth. Dr. Tiwana has noticed that people who are happy with the way their smile looks are more likely to take care of their teeth with good brushing and flossing habits, so she is happy to provide these services to her patients.
Which Cosmetic Dentistry Procedures Are Available at Chatham Dental Arts?
Teeth Whitening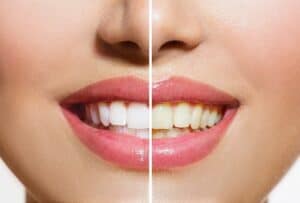 Dr. Tiwana uses the impressive Zoom teeth whitening system to bleach teeth that are stained or yellower than you would like. In less than an hour, you achieve teeth that are about eight shades whiter than before. The procedure is pain-free and very safe, producing results that are much more exciting than what you can accomplish with an at-home whitening kit.
Veneers
Veneers are tiny covers that permanently attach to the front of your natural teeth to give them a new look. You may choose from a range of veneers to get the precise color, size and shape of teeth that you have always wanted. You may also decide to cover an entire row of teeth for a beautiful transformation, or simply cover a problem tooth or two. Veneers are great for achieving a whiter, straighter smile.
Dental Crowns
Crowns are porcelain or ceramic tops that rest atop a real tooth. Though some patients get crowns for restorative purposes (like supporting a dental bridge or strengthening a tooth that has had a root canal), they are also effective at concealing imperfections like cracked, chipped and/or misshapen teeth. Crowns are designed to look just like a real tooth, so they fit seamlessly in your mouth.
Tooth Colored Fillings
Dr. Tiwana can treat a cavity with a tooth-colored filling rather than a silver amalgam filling so that you do not have unnecessary metal in your mouth that detracts from the quality of your smile. These resin fillings are mixed to match the color of your tooth so they cannot be spotted and they are comparably durable to traditional fillings.
Smile Makeover
With smile makeover, Dr. Tiwana combines multiple cosmetic procedures to give your mouth a more complete transformation. After examining your mouth and hearing your aesthetic concerns, she can recommend a course of treatment that best achieves those goals.
What Kind of Results Can You Expect from Cosmetic Dentistry?
Thanks to Dr. Tiwana's expert precision, you can expect your cosmetic results to last a long time, with the exact timeframe depending on the procedure. Teeth whitening lasts for a year or two, dental crowns last up to 15 years, veneers last up to 20 years and tooth-colored fillings last about 7 years.
Discuss Cosmetic Procedures with Dr. Tiwana
If you know you would like your smile to look better, come have a conversation with Dr. Tiwana at Chatham Dental Arts. Together, you can devise a treatment plan that can have your mouth looking better than it ever has before. For a consultation, call (919) 542-4911.