At Chatham Dental Arts, talented dentist Dr. Karen Tiwana knows that most adults who have strong, healthy gums and teeth began as children who learned proper oral hygiene habits like brushing and flossing. For that reason, she makes it her mission to ensure that children in Pittsboro, NC have a positive (i.e. non-scary) experience at her office where they can feel comfortable and secure. She has experience communicating with and treating kids of all ages.
Is Your Child a Candidate for Dentistry?
All children should attend regular dental appointments to protect their oral health. The American Academy of Pediatric Dentistry recommends that parents schedule their child's first appointment around the time of his or her first birthday (or within six months of the first tooth appearing).
What Are the Benefits of Children's Dentistry?
Some people believe that caring for baby teeth is less important since these teeth eventually fall out anyway, but that is a dangerous misconception. Gum disease can start early. Infected or decaying teeth can cause pain and discomfort and affect your child's speech. Teeth that fall out prematurely may cause serious alignment issues when the adult teeth come in.
What Procedures Are Included with Children's Dentistry?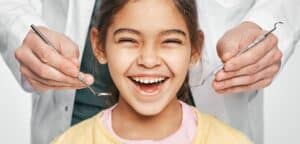 Most of the procedures Dr. Tiwana performs on kids pertain to general dentistry. Your child visits twice per year so that Dr. Tiwana can check for cavities and verify that the gums are in good health. She also reminds your child of important habits like brushing twice a day and limiting sugary foods to avoid cavities. If cavities are discovered during the appointment, Dr. Tiwana can perform a filling or a root canal, if necessary.
Your child also undergoes a deep cleaning at these appointments, which eliminates the plaque that has amassed in areas that are hard for your child to reach. In children under 12, Dr. Tiwana also offers fluoride treatment to help strengthen the enamel of the teeth for extra protection.
Restorative procedures are also popular among adolescent patients. Kids who play sports or explore outdoors sometimes crack or chip their teeth — something that is important to address. For kids who are missing a tooth, Dr. Tiwana usually uses a dental bridge; dental implants are not ideal for children since the jawbone continues to grow throughout puberty.
What Kind of Results Can You Expect from Children's Dentistry?
Dr. Tiwana offers the same outstanding care to her young patients as she does to her older patients. You can count on her to address any needs that arise so that your child is properly set up for a lifetime of healthy oral hygiene. Her goal is to make sure each child's smile is as beautiful as possible, whether it consists of baby teeth, adult teeth or is currently transitioning.
Schedule an Appointment at Chatham Dental Arts
Dr. Tiwana has earned the trust of many families in Pittsboro and the surrounding area in North Carolina. Since Dr. Tiwana treats both children and adults, it is extra convenient to schedule appointments for the whole family on the same day. To see firsthand why kids adore Dr. Tiwana, call her office at (919) 542-4911 today.